LC-DIP-APPI-MS
New DIP-APPI-MS for analysis of nonpolar substances with increased sensitivity
The reliable Direct Inlet Probe (DIP) is coupled with the ionization method APPI (Atmospheric Pressure Photoionization) to measure nonpolar substances in a wide mass range with high sensitivity. The innovative DIP-APPI system for high-resolution mass spectrometry works with a new type of ionization chamber, which contains a vaccum-UV-lamp with an APCI nebulizer.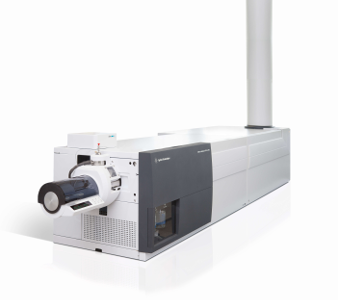 The analytes are inserted into the ionization chamber with a temperature programmable push rod tip, then vaporized by a temperature program and ionized with the vacuum-UV-lamp. Photoionization at ambient pressure (APPI) occurs with the Direct Inlet Probe (DIP) in a virtually water- and solvent-free ionization chamber - a stark contrast to a LC-APPI-MS measurement. This excludes falsifications by solvents and increases the sensitivity of the analysis as also few adducts and fragments develop. This type of ionization is especially suited for nonpolar compounds that cannot be measured adequately with APCI and ESI.
Measurement duration is relatively short as there is largely no need for sample preparation and chromatography with the DIP-APPI measurement. This makes the procedure very suitable for screenings. Furthermore, the normal LC/MS measurement with APCI is available, so it is possible to switch between both modi without any conversion, simply by changing the software configuration.
Features
Direct Inlet Probe system (DIP) for liquid and solid samples
automatic insertion of the samples into the APPI source with a temperature programmable push rod tip
temperature program - ramps with heating rates up to 2 °C/s to 400 °C
convenient operation via DIP software (temperature program) and Agilent software (spectral processing)
suitable for fast screenings
upgradeable with PAL autosampler for automation and online analysis (for liquid and solid samples)