Column Connectors
Column Connectors "standard" and "light"
The column connectors are used to connect capillary columns with the same or different diameters. Two different modifications are available:
"Standard" column connectors are known for their solid mechanical assembly.
"Light" column connectors are characterized by their minor wall thickness. This low-mass column connection technology enables a much quicker temperature adaption of the column connector to the GC oven temperature.
According to application, the following connectors are available:
dual column connector: to connect two capillary columns
triple column connector: to split the gas stream in two equal parts
quadruple column connector: to split the gas stream into two equal parts and to supply an additional connection for purge gas or backflush
---
Column Connectors Dual: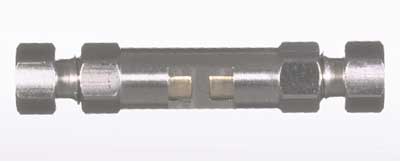 column IDs [mm]
"standard" order no.
"light" order no.
0.20 - 0.20
A 0009 20 20
A 0008 20 20
0.20 - 0.25
A 0009 20 25
A 0008 20 25
0.20 - 0.32
A 0009 20 32
A 0008 20 32
0.20 - 0.53
A 0009 20 53
A 0008 20 53
0.25 - 0.25
A 0009 25 25
A 0008 25 25
0.25 - 0.32
A 0009 25 32
A 0008 25 32
0.25 - 0.53
A 0009 25 53
A 0008 25 53
0.32 - 0.32
A 0009 32 32
A 0008 32 32
0.32 - 0.53
A 0009 32 53
A 0008 32 53
0.53 - 0.53
A 0009 53 53
A 0008 53 53
spare parts
order no.
graphite ferrule (Teil 1/ part 1)**
A 0003 00 xx*
sealing screw (Teil 2/ part 2)
A 0023 00 xx* (standard)
A 0022 00 xx* (light)
*xx stands for the column ID [mm]
**10 pcs per package
---
Column Connectors Triple: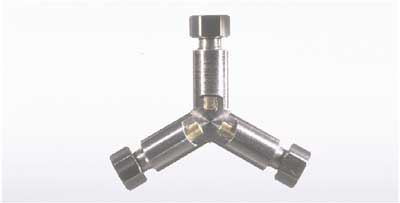 column IDs [mm]
"standard" order no.

"light" order no.
0.25 - 2 x 0.20
A 0011 25 20
A 0010 25 20
0.32 - 2 x 0.25
A 0011 32 25
A 0010 32 25
0.53 - 2 x 0.32
A 0011 53 32
A 0010 53 32
spare parts
order no.
graphite ferrule (Teil 1/ part 1)**
A 0003 00 xx*
sealing screw (Teil 2/ part 2)
A 0023 00 xx* "standard"
A 0022 00 xx* "light"
*xx stands for the column ID [mm]
**10 pcs per package
---
Column Connectors Quadruple: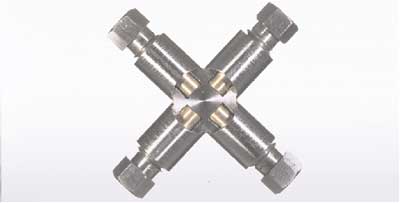 column IDs [mm]
"standard" order no.
"light" order no.
0.25 - 2 x 0.20
A 0016 25 20
A 0015 25 20
0.32 - 2 x 0.25
A 0016 32 25
A 0015 32 25
0.53 - 2 x 0.32
A 0016 53 32
A 0015 53 32
spare parts
order no.
graphite ferrule (Teil 1/ part 1)**
A 0003 00 xx*
sealing screw (Teil 2/ part 2)
A 0023 00 xx* ("standard")
A 0022 00xx* ("light")

*xx stands for the column ID [mm]
**10 pcs per package
for other column ID available on request