1260 Infinity Nanoflow LC System
Nanoflow LC for high sensitivity nanospray LC/MS
Nanoflow LC is widely used for high resolution separations and high sensitivity MS detection. The Agilent 1260 Infinity Nanoflow LC system incorporates Agilent's unique Electronic Flow Control (EFC) with active feedback and real time flow adjustment for constant flow delivery to the column independent of system backpressure. After its first introduction with Agilent capillary and nanoflow pumps, EFC with real time flow control is the gold standard for reliable and robust nanoflow performance. Easy to use, the Agilent 1260 Infinity Nanoflow LC simply requires the user to input the desired nanoflow set-point to obtain the precise flow and gradient performance required for retention time reproducibility and stable ion generation essential for high sensitivity nanoflow LC/MS performance.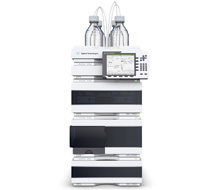 Features
Unsurpassed low-flow performance and stability. The nanoflow pump features proven electronic flow control (EFC) with active feedback for unprecedented stability at flow rates from 100 nL/min to 1 µL/min.
Constant flow independent of backpressure. EFC with active feedback and real time flow control delivers constant nanoflow independent of system backpressure to ensure ultimate retention time reproducibility and stable nanospray operation.
One LC, two modes: also available in full gradient capability for up to 2.5 mL/min in normal mode for a wide range of flexibility.
Flow path designed to maximize and maintain separation efficiency. The switching valves, fittings, connectors, and PEEK-coated fused silica tubing have all been carefully selected to minimize dead volumes.
Automated sample cleanup, enrichment and 2D HPLC with conventional nanocolumns.
System can be converted to 2-D HPLC operation through the simple addition of another column such as an ion exchange column.
Designed to take advantage of the innovative and fully integrated HPLC-Chip/MS system for the ultimate ease-of-use nanospray LC/MS.
Key component of the Agilent Nanospray Protein ID solution and the HPLC-Chip/MS Protein ID solution.
Fully integrated with all Agilent mass spectrometers.
For 3rd party MS platforms, the Agilent 1260 Infinity Nanoflow LC System is compatible with most ESI, nanospray or MALDI MS systems. Software control is available for several platforms.
Download

Brochure 1260 Infinity Nanoflow LC System for MS.pdf